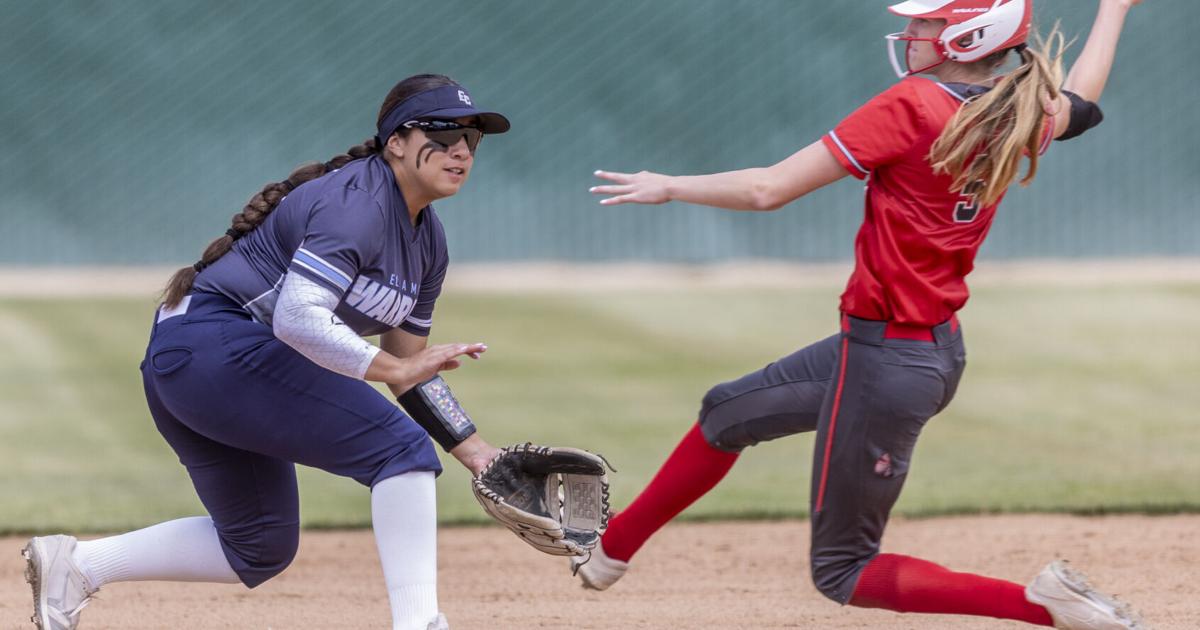 COLLEGE COLLEGE, May 6-12: Championship season arrives in Bakersfield | Sports
Read Time:
3 Minute, 54 Second
This was caused by a year of hard work.
As spring sports end, more and more local college athletes are reaching the highest level of competition. One team even has a chance to go to the state championships here in Bakersfield.
Here's more about what the college's sports teams achieved last week and what awaits them.
Men's golf: The Renegades will send their representative to the California Public College Sports Association Championships in San Jacinta after Octavio Romero broke out of 76 results in the first round, scoring 147 shots overall, qualifying as a face at state competitions in the ladies' competition.
Softball: BC reached the playoffs at number 8, Figure No. 10 El Caminowhich he has already beaten twice in the regular season. This time the Warriors posed a slightly bigger challenge, making five wounds in the last two innings of the series opening to win 6-5 on May 6 and then getting a chance to close the Warhead with a draw last Saturday's third, only a 2-1 drop. Renegades completed their doubleheader by returning to form, scoring nine runs with just eight strokes to earn chance to get revenge on college № 1 Mt. San Antonio College beginning of Friday evening. The series winner will return to Bakersfield for the CCCAA playoffs on Thursday.
Swimming: The men's and women's swimming teams finished the season last weekend at the state championships in East Los Angeles, both finishing 13th overall. The results were marked by three new school records among women achieved by Reilly Pike in the 100-meter breaststroke, Christine Feola in the 200-meter butterfly and the Pike Quartet, Feola, Emma Jeffries and Zoe Amassan-VanVelly in the 200th. -meter relay.
Athletics: The Renegades took an extra chance to advance in the regional competition by selecting 18 athletes (10 men, eight women) for the SoCal Championship in Murpark. These competitors were in action on Friday with a chance to advance to the state finals next Friday at Mt. SAC, for which Tucker Monaco has already qualified in decathlon.
Different and looking ahead: Xabi Iparragire won first team awards at the conference, Jose Ruiz became second team, and three other Renegade baseball players received honorary awards … BC softball won Western State Conference awards, including Talia Nielsen as Pitcher of the Year, Casey of the Year as Casey Goodman as four first team winners, three second team members and two honorary awards … Along with the women's swimming records BC won a new record in one season from Talia Nielsen and Crystal Paradise won Best School Time in the Hurdles at 11: 58.34.
Baseball: CSUB dropped to 16-27 after last weekend he took off on the road to Cal Polly in a series of three games. Roadrunners came closer every day after a tough defeat on May 6 with a score of 14-1, but on Saturday fell 6-2 and 4-2 in a pair of runs in the seventh inning on Sunday, even after AJ Miller made his 10- s home runs this year. In addition to the Big West crown, Miller is looking for a school record for one season in 12, set in 2010 by Martin Medina. CSUB opened the home series against Long Beach on Friday night.
Softball: The Roadrunners' losing streak lasted 12 games after sweeping the road in their penultimate series of the year in Long Beach. Samantha Fowler from the beach did not suffer CSUB on May 6 in an 8-0 victory, but the Roadrunners remained competitive with 3-0 and 3-2 defeats the next day. In the final game, when Kirsten Martinez collected one of her best away games of the year with three zero innings, Jordan Head scored a single RBI strike to cut the deficit to one run, but a double in the seventh inning did not allow CSUB to bring home Kaya Johnson. This gave Beach a win and lowered the Roadrunners to 8-34, joining their last series at home against UC Riverside.
Athletics: The Roadrunners ended their regular season in Fullerton, finishing second in the 400-meter hurdles with Riley Slayton, and began racing at the Big West Conference Championships in Davis on Friday, hoping to send the best athletes to NCAA regional competitions.
Different and looking ahead: CSUB to host ROWDYs award ceremony Monday night at Icardo Center … men's basketball signed by Ugnius Jarevicius, 6-foot-10 forward from Alytus, Lithuania … women's football added midfielder Omani Felip of Las Vegas … Assist left the women's soccer program.
Reporter Henry Greenstein can be reached at 661-395-7374. Follow him on Twitter: @HenryGreenstein.