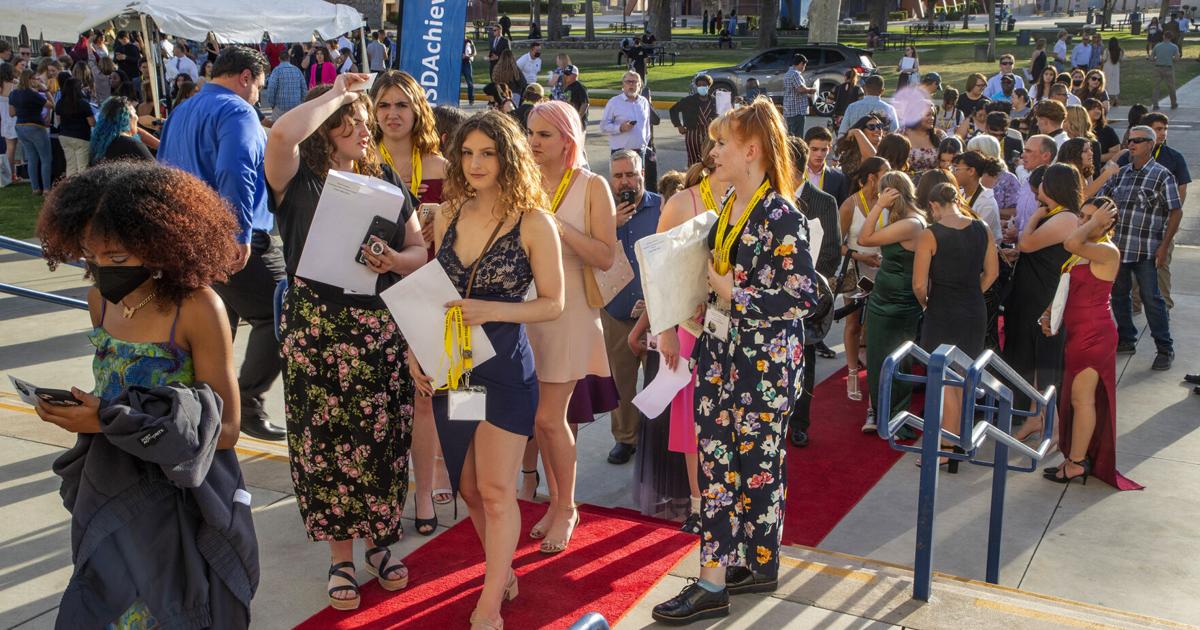 Kern High announces PEAAK 2022 winners News
Read Time:
2 Minute, 3 Second
On Thursday, Kern High School held an awards ceremony for advanced training in athletics and athletics in Kern, or PEAAK, to recognize it as "the best," a press release said.
According to education officials, the 11th annual ceremony at Bakersfield High School honored more than 300 people in 42 categories, watched by more than 1,500 community members. The category included the best athlete, the best actor, the best community supporter and dozens of others.
The biggest supporter of the community
Red Cross Club – Highland High School
La'Don Denmark Jr. – High School of Independence
Best editing in video / film
Dylon Bibb is Arvin High School
Logan Ebat – Centennial High School
Savannah Rosas – Futhill High School
Diego Cáceres – Centennial High School
Rebecca Chavez is Ridgeview High School
Team Future Farmers of America Market Sheep Team – Foothill High School
The Varsity Boys basketball team is Golden Valley High School
An excellent theatrical technician
Janes Carbach – Futhill High School
The best example of athleticism
Team Mock Trial – Centennial High School
Jason Oliver – Liberty High School
Leila Baamer is East Bakersfield High School
Best public event or competition (group)
Spooktacular – Southern High School
The best student news broadcast
EBTV is East Bakersfield High School
Rebecca Landorfer is Stockdale High School
Outstanding achievements in theater (woman scientist)
Leslie Art – East Bakersfield High School
Outstanding achievements in theater (male, scientist)
Carlos Garcia is a high school of independence
Jana Hutson is Ridgeview High School
Joshua Bell is a high school of independence
Devon Sundgren is Shaffer High School
Terra Alvine – Northern High School
Shahad Albashiri is Ridgeview High School
Excellent solo performance by tenor / bass Carsten Adele
Excellent solo performance by soprano / viola Marisa Almager
Excellent performance by the small ensemble Advanced Treble Ensemble
Excellent initial bass choir performance
The Varsity Girls basketball team is Bakersfield High School
The Varsity Girls tennis team is Stockdale High School
Excellent performance by a large ensemble
Chamber Singers – Centennial High School
Outstanding Achievements in Acting (Men)
Joshua Tiede – Centennial High School
Outstanding Achievements in Acting (Women)
Savannah Greg – Centennial High School
Animal Club – Independence High School
A wonderful live theatrical production: a musical
Into the Woods – Centennial High School
A wonderful live theatrical production: non-musical
Radio Girls – Shafterskaya High School
A wonderful original live theatrical production
A very gloomy attack on Mount Santa Claus in Jingle Vision 4-D – South High School
Kayla Vaughn – World High School Monte
Jorge Ortegaga – Ridgeview High School
The Bruiser Block is the Golden Valley
Harvey Hall: The Spirit of Bakersfield
Los Leones de Mira Monte, Mariachi – Mira Monte High School
Award of the Ambassador of the CCSD leaders
Alexander Fan – Centennial