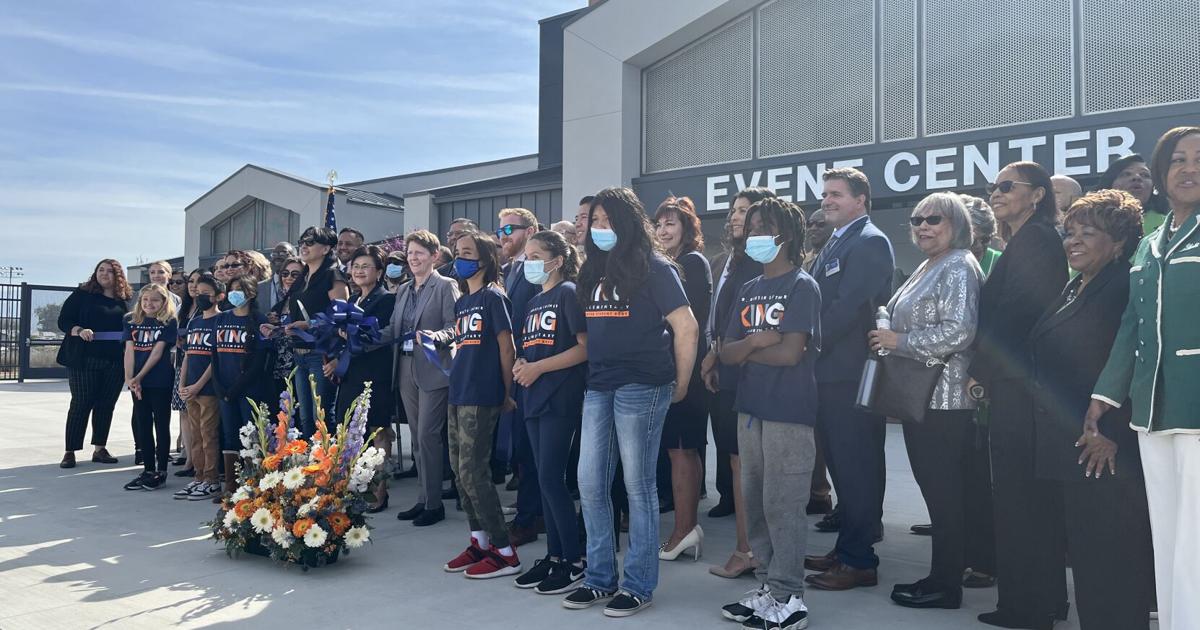 State awards over $ 65.5 million in grants to public schools Education
Read Time:
7 Minute, 33 Second
This week, California is launching a seven-year initiative to transform potentially thousands of schools into community-based schools with full-service parent-centered services.
Approved a year ago by the legislature, the $ 3 billion California Public Schools Partnership Program will be the nation's most ambitious effort to build schools that cater to children's diverse health and learning needs.
Community schools became known as schools with "funeral services". The main assumption is that a holistic approach to education, especially in low-income areas with unmet basic needs, creates better conditions for the emotional and academic development of children. Gov. Gavin Newsom is proposing to increase the public school curriculum by $ 1.5 billion – by 50 percent – in his revised state budget for 2022-2023, which he released on May 13.
At its meeting on Wednesday, the State Board of Education approved grants for planning and implementation of $ 635 million for 265 school districts, county education departments and statutory schools, education officials said.
On the recommendation of the California Department of Education 192 counties, county education departments and statutory schools will receive $ 200,000 in grants for two-year planning in the first round.
The remaining 73 counties, with at least some existing public schools, will receive implementation grants covering 444 schools; each school will receive over five years from $ 712,500 for schools with less than 150 students to $ 2.375 million for schools with more than 2,000 students. Priority funding will be given to schools that serve at least 80 percent of low-income children.
District and statutory schools will have to contribute an additional third as an appropriate government grant.
Oakland Unified, the district with perhaps the largest concentration of public schools in the country, will be the largest recipient, with $ 66 million to expand and supplement its network of public schools to 53 of the 81 schools in the county.
Curtis Sariki, the district's chief of staff, said he was excited by the news.
"We've been doing this work for 10 years and were set up for the moment," he said. "Funding confirms that we have systems in place to make the best use of these dollars to improve outcomes for children."
In Kern County, seven counties are to receive planning grants, including Arvin Union, Di Giorgio Elementary School, El Techon United School District, Fairfax Elementary School, Kern School School, Maricopa and Vineland receive about $ 200,000.
At the local level, larger grants will be distributed to: Bakersfield City School District ($ 5,700,000 for Stella I. Hills Elementary School, Dr. Martin Luther King Jr. Elementary School, McKinley Elementary School, and Emerson High School); Buttonwillow Union School District ($ 1,187,500 for Buttonwillow School); Delaunay Union School District ($ 13,775,000 for Albany Park, Princeton Elementary School, Fremont Elementary School, Del Visa Academy of Mathematics and Science, Terrace Elementary School, Almond Wood High School, Harvest Elementary School, Nuevo Vieva Language Academy , The Cecil Avenue Academy of Mathematics and Science and the Pioneer School); Edison Elementary School County ($ 2,850,000 for Edison High School and Orangewood Elementary School); Kern County Board of Education ($ 1,187,500 for Kern Public School); Kernville Union Elementary School County ($ 2,612,500 for Woodrow Wallace High School and Woodrow W. Wallace Elementary School); Lamont Primary School District ($ 3,325,000 for Lamont Primary School and Alicante Avenue Primary School); Lost Hills Union Elementary School District ($ 8,312,500 for Buena Vista High School, AM Thomas High School, Wasco Independence High School, Semitropic Elementary School, Lost Hill Elementary School, Taft Union High School and Wasco Union High School); McFarland Unified School District ($ 7,125,000 for Horizon Elementary, McFarland Junior High, Kern Avenue Elementary and McFarland High School Early College); South Kern School Unified School ($ 5,700,000 – for Rare Earth High School, Extra School, Abraham Lincoln Alternatives, Tropico High School and Rosamond High Early College Campus and Rosamond Elementary School); Standard School District ($ 5,700,000 for Standard, Highland, Wingland and Standard Middle School); and Wonderful College Prep Academy ($ 3,325,000 for Wonderful College Prep Academy – Lost Hills and Wonderful College Prep Academy – Delano);
Great need with great funding
Many areas besieged this year by staff shortages, chronic student absences, COVID camouflage problems and testing appear to have taken the initial course. More than two-thirds of funding for planning and implementation remains for future rounds. Depending on who applies, there may be more than 1,400 public schools, which is about a third of the state's schools, in which at least 80 percent are low-income children.
The launch comes at a time of obvious need and abundant resources.
"The pandemic has highlighted the need to view schools as centers for society," said Leslie Hu, a former social worker who is the coordinator of public schools at Martin Luther King High School Jr. in San Francisco. "We saw what happened to our young people and had to move on to better meet their needs, to do things differently."
Newsom made public schools a top priority for TK-12 with an unprecedented post-pandemic state budget surplus last year. But funding, which averages several hundred thousand dollars a year per school, will not in itself lead to a massive expansion of services. Depending on what each school chooses, it is enough to create a wellness or parenting center or add one or two employees, be it a family worker, a social worker, a counselor or a music teacher.
Under the terms of the grant, the top priority for schools should be to hire a school community coordinator. Like Hu in San Francisco, this person will be a key figure who should build and maintain partnerships with health professionals, county agencies, nonprofits, and neighborhood groups – and build cohesion between often disconnected programs and services.
In addition to public schools, Newsom and the legislature have allocated billions of dollars to new school programs to be rolled out over the next few years: an extended day and six-week summer school for all low-income elementary students; transitional kindergarten for children 4 years old; free lunches and breakfasts for all students; extended career paths in high school; tens of millions of dollars for staff development and hundreds of millions of dollars to hire K-three literacy trainers if the legislature accepts his offer.
These programs will benefit more than public schools, but they are largely in line with their mission.
Expert warning
Milberry McLaughlin, an honored professor of education and public policy at Stanford University, is a fan of public schools that have tracked their development for eight years in her 2020 book The Way We Do School: The Making of Oakland's Full-Service Community District School. She said she was impressed with the way schools met different needs, "involving families who have never felt respected before."
"The family engagement in Auckland has been impressive," she said.
But she said she was worried about whether administrators and teachers in the areas receiving funding would change, fundamentally, how they work in schools and open them up to parents and society. "Changing the rules is difficult and time consuming," she said. "I am concerned that in 5 years we will look at what we have invested and will not see results."
Recognizing that the counties would need guidance and assistance, the Newsham administration has created $ 166 million to fund a network of at least five regional technical assistance centers that will help districts establish public schools and monitor their progress. The Alameda County Department of Education will become the main agency if the State Council approves a $ 20 million grant.
The California Partnership for the Future of Learning, a coalition that includes community advocates, the California Advancement Project, Californians for Justice and PICO California, wants tougher transparency and accountability requirements set out in the public school curriculum.
In a letter to legislative leaders, the coalition called for grantees in public schools to report annually and publicly report to parents and society on progress toward the goals, as well as an annual evaluation backed by data on whether the school's practices are effective. . The coalition also wants the state to ban the use of public school funding to staff police and security personnel.
"We don't expect public schools to become strong in all major program commitments and the four pillars at once, but they need to assess where they are and whether they are responding to their communities," said Erin Apte, senior legislative adviser to public advocates.
Sarikei's advice to districts starting community schools is from afar.
"Five years is a great time to implement and try to get some other results. It's also not that long in the big picture, "he said. "I would ask, 'How do you think about sustainability from day one?' What systems, processes, and property rights are you going to build so that it doesn't just become another grant program, a brilliant moment. And then, when five years go by, most of what you once started goes away. "