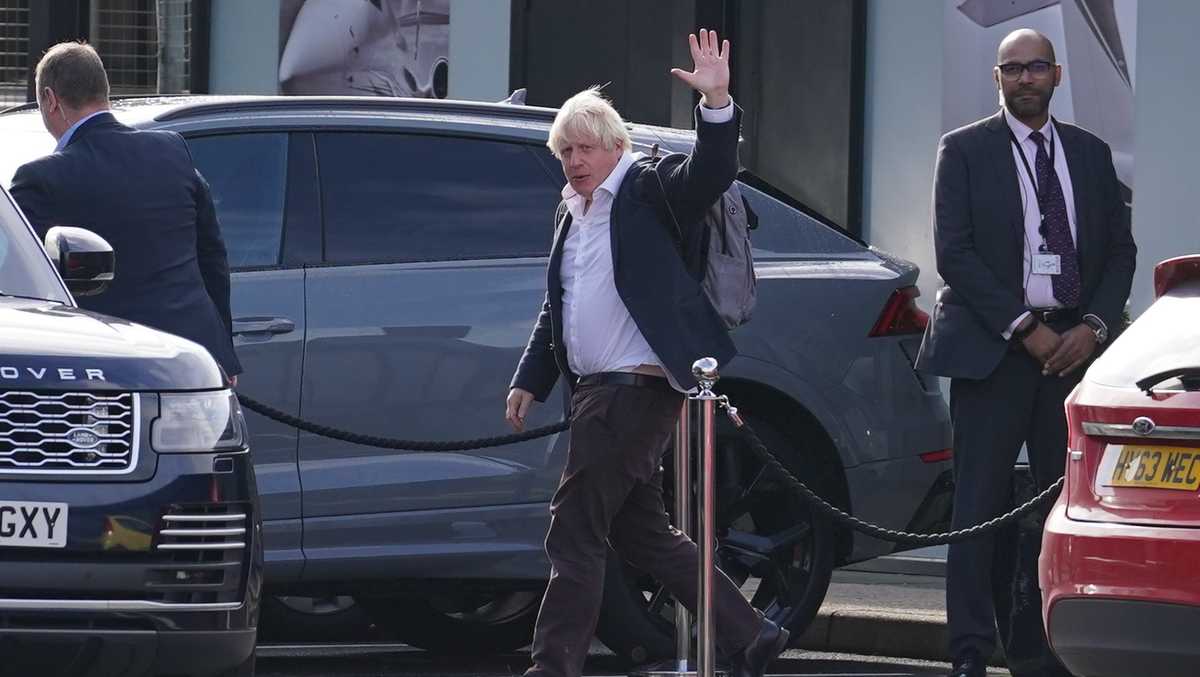 Boris Johnson will not run for the position of Prime Minister of Great Britain
Read Time:
5 Minute, 3 Second
Good. I took office at a time of great economic and international instability. Families and businesses were worried about how to pay their bills. Putin's illegal war in Ukraine threatens the security of our entire continent, and our country has been held back by low economic growth for too long. I was elected by the Conservative Party with a *** mandate to change that. We met the energy bills, cut National Insurance and set out a *** vision *** of a low tax, fast growing economy that would take advantage of the freedoms of Brexit. However, I understand that, given the situation, I cannot fulfill the mandate to which I was elected by the Conservative Party. So I spoke to His Majesty the King to let him know that I am resigning as leader of the Conservative Party this morning. I met the chairman of the 1922 Committee, Sir Graham Brady. We have agreed that there will be *** leadership elections next week. This will ensure that we stay on track to meet our fiscal plans and maintain our nation's economic stability and national security. I will remain as Prime Minister until a *** successor is elected. Thank you.
Former British Prime Minister Boris Johnson announced Sunday that he will not run for the leadership of the Conservative Party, ending a short-lived bid to return to the premiership that saw him ousted just over three months ago. His departure leaves former Chancellor of the Exchequer Rishi Sunak as the strong favorite to become the next UK Prime Minister. He can win the competition already on Monday. Johnson, who was ousted in July amid ethics scandals, is expected to run to replace Liz Truss, who resigned last week after her tax cut economic package sent shockwaves through financial markets and damaged her standing in the ruling party. Johnson spent the weekend trying to drum up support from fellow lawmakers after flying in from a Caribbean vacation. By late Sunday, he said he had collected more than 100 names, the threshold to run for office. But he lagged far behind Sunak in support. Johnson said he had come to the conclusion that "you cannot govern effectively unless you have a united party in Parliament". Sunak won the public support of more than 100 Tory lawmakers to beat his two main rivals, Johnson and former Cabinet minister Penny Mordaunt. The Conservative Party has hastily ordered the contest, which aims to wrap up nominations on Monday and appoint a new prime minister — the third this year — within a week. Sunak, 42, came second to Truss in this summer's Tory leadership race to replace Johnson after he was ousted amid a series of ethics scandals. He confirmed on Sunday that he is running again in the latest leadership contest. "There will be integrity, professionalism and accountability at every level of government that I lead, and I will work day in and day out to get the job done," Sunak said. in the statement. Johnson's exit came after allies insisted he would run. Business Secretary Jacob Rees-Mogg told the BBC on Sunday he had spoken to Johnson and "obviously he will stand" after , as he flew to London on Saturday from a holiday in the Dominican Republic. The possible return to power of the 58-year-old Johnson, who officially left office only in early September, has deeply divided conservatives and alarmed many others. Supporters say he is a winner of the vote and has enough support from lawmakers, but many critics warn that Johnson's new government will be disastrous for the party and the country. Northern Ireland Secretary Steve Baker, a former Johnson supporter and influential politician in the Conservative Party, warned that Johnson's return would be a "guaranteed disaster". Baker noted that Johnson still faces an investigation into whether he lied to parliament while in office about breaking his government's own coronavirus restrictions while partying in Downing Street. If Johnson is found guilty, he could be removed from office. "This is not the time for Boris and his style," Baker told Sky News on Sunday. "What we can't do is make him prime minister in circumstances where he's bound to collapse, bringing down the whole government … and we just can't do that again." But Johnson won the support of several senior conservatives, including Nadhim Zahavi, another former Treasury chief. "He repented and spoke honestly about his mistakes. He learned from these mistakes how he can lead the 10th place and the country better," Zahavi said. Truss stepped down on Thursday after a tumultuous 45 days, admitting she could not deliver on her failed economic package of tax cuts, which she was forced to abandon after it sparked anger in her party and weeks of turmoil in financial markets. Sunak, who served as Treasury chief from 2020 until this summer, presided over an economic downturn caused by the coronavirus pandemic. He resigned in July in protest at Johnson's leadership. In the summer race to replace Johnson, Sunak called Truss' and other rivals' promises to cut taxes immediately reckless. "fairy tales" and claimed that kl First of all, it is necessary to control inflation. Tory voters backed Truss over Sunak, but he was right when Truss' unfunded tax package sent markets into chaos in September. Dozens of Britain's 357 Conservative lawmakers have yet to say publicly who they support to replace Truss.
LONDON, England –
Former British Prime Minister Boris Johnson has said he will not run for Conservative Party leader, ending intense speculation about a comeback.
Johnson, who was fired in July amid ethics scandals, is expected to replace Liz Truss, who stepped down last week.
He spent the weekend trying to win the support of fellow lawmakers and said he had more than 100 votes, the threshold for running for office.
But he was far behind former Treasury chief Rishi Sunak in support. Johnson said he had come to the conclusion that "you cannot govern effectively unless you have a single party in Parliament".
This is the latest news that will be updated